Collections
Shop for artwork based on themed collections. Each image may be purchased as a canvas print, framed print, metal print, and more! Every purchase comes with a 30-day money-back guarantee.
About Shawn Dall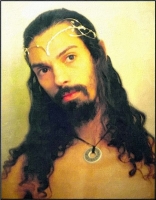 Hey guys, Shawn here, and welcome to my page! I hope you find what you are looking for! I am always looking to pick the minds of my customers, so if you feel you can think of something I can do in the styles that I do, feel free to send me a message! Not gonna guarantee I will do it, as I don't do requests, but it might just give me some ideas along similar lines!

As you will most likely see I like the fantastical. I am a spiritual leader of pantheism. You can view my spiritual work below (I am speaker 1):

You can also find my book on amazon by typing in shawn dall - it will be the one with the purple cover! Or you can click the link below.

As a result of this a lot of my work reflects what I see with my higher sight. A lot of the anime works I have done are actual higher selves of other people, and of myself. The fractal digital work I do is cosmic and borrows celestial divine elements and those of nature.

My spiritual higher nature draws from both fae and draconian - so you will see a lot of elven and dragon inspired works in my pieces.

I also channel my subconscious as a result of this through my chaos art - which is done by drawing with your eyes closed - you think of an emotion and you draw it forth from the ether - as you can see the results are quite striking, and anyone can do it! Just be mindful it is my parented pioneered technique, so please credit me if you do any subconscious-based chaos art!

My photography tends to lean to the architectural and nature end of things. I also really really appreciate detail as I am a detail-based illustration artist. I also do altered media which is a combination of painting and photography.

I am also an avid carver - I keep meaning to get into wood but.. it scares me hehe.. so I tend to stick to pumpkin carving - I have been carving them for years, and have won awards for them for several years - you can find pictures of them - perfect for halloween times! :)

So poke around, enjoy, and let me know what you think! Also please give me feedback as to anything that turns you off from buying a piece, whether it's price etc. I may be able to compromise with a discount if money is tight for you.